Our first step is to establish a rapport, learn about your goals, and how we can assist you. We will compose a scope of work from our discussions and if examples of sketches, drawings or CAD files are available, they will be viewed and included in the scope. Collectively we will establish a schedule of creative time and your delivery needs. A proposal capturing the work effort and the job specifications will be sent to you for your consideration and approval. A contact person will be needed to answer questions as inevitably issues arise as the job unfolds.
 Once Approved:
If you have not already provided the working media, then to get started you would need to send physical sketches, drawings, DVD's or e-mail CAD or PDF files. We will then begin work, following the specifications and the agreed upon scope of work.
Completion and Delivery: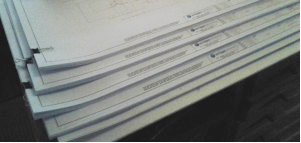 Once the scope of work has been completed, we will provide according to the job specification, rendered D, C, or B size plots, CAD or PDF files sent as DVD's or e-mailed back to your FTP site, VPN link, or e-mail-in box. The name of the updated file will be saved as a modified file name according to client specification with assurance the root file(s) can not be overwritten.
We consider the services we provide to our clients be confidential. 
If it provides greater comfort for the client, we will sign a non-disclosure agreement.